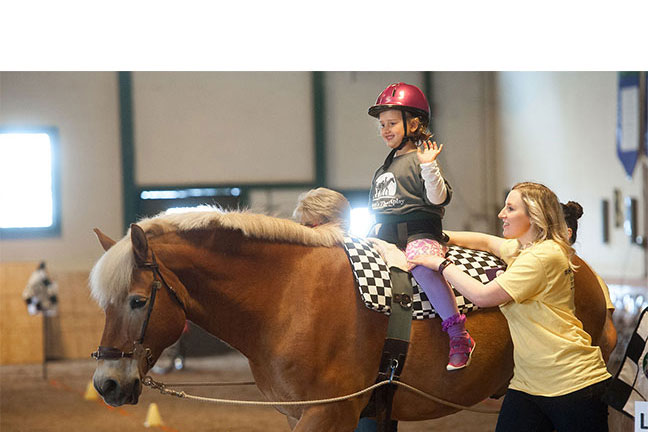 "It's been a dream come true for us."
Children's TherAplay Offers Wilhelm a Different Kind of Project
When F.A. Wilhelm crews rolled up to The Children's TherAplay Foundation construction site with their bulldozers and backhoes – heavy equipment with loads of horsepower – they were greeted by a different kind of horsepower – one that builds ability and independence in children with special needs.
Children's TherAplay, located in Carmel, Indiana, is a not-for-profit healthcare facility unlike any Wilhelm Crews had worked on before. The clinic specializes in hippotherapy –incorporating the movement of horses into pediatric physical and occupational therapies – for approximately 170 children, ranging in age from 18 months to 13 years, with special needs.
Hillary McCarley, Executive Director of Children's TherAplay, said Wilhelm's offer to build the facility's new Meyers Family Stable came completely out of the blue. When it was time to find a company to do the work, she called her friend and Wilhelm President, Phil Kenney for advice on how to choose a general contractor. "I knew a project like this was small potatoes for a company like Wilhelm. But, I respect his opinion and knew he would steer me in the right direction," McCarley Said.
McCarley told Kenney that, like the children they serve at Children's TherAplay, this project also had special needs. She explained that they needed to keep the facility open during construction to avoid disrupting the treatment schedules of their young clients, which would require extra precautions to keep everyone safe. And, of course, the horses needed to be considered. Heavy equipment and loud noises can frighten them. McCarley needed a contractor willing to coordinate with her staff on various construction activities to ensure everything went smoothly.
"After explaining this to Phil, he said, 'Hillary, I don't think there's anybody that can do it better than Wilhelm.' I was floored. I told him I didn't expect that and was happy to hire a general contractor. He said, 'No, I'm going to have to do it myself.'" According my McCarley, Kenney wanted to assist in finding the right vendors for the project, and two days later he came out to the facility to get the ball rolling.
Mike Shaw, Wilhelm Superintendent, said that the project was unique not only in terms of its type and size – a horse stable is not the usual sort of project the company gets involved in – but also in that many of the materials were donated. "Normally, we get all materials and contractors lined up ahead of time," Shaw said, adding, "It was a bit of a challenge working with all the different contributors to get the materials there when we needed them. But, they all came through." The biggest challenge, he said, was the narrow window of time in which the work needed completed, "We started in early February and had to be finished by the last week of April."
Shannon Wade, Children's TherAplay's marketing programs manager, said the new stable was a critical need. "Our program is limited by the number of horses we have, and the number of horses we have is limited by the barn." She said Children's TherAplay is also one of the few hippotherapy clinics in the region that is open year-round. "Imagine if your child needed a life-changing medical treatment yet you're told you can only come a few times a year," said Wade.
During construction, Children's TherAplay was able to relocate its horses to a farm next door, allowing them to continue providing services as Wilhelm's crews were building the new stable. McCarley said Wilhelm worked to make sure the noise didn't bother the horses, taking extra precautions to prevent frightening them. "The only time we had to stop hippotherapy was when they had to use the jackhammers," she said.
The old barn had only 11 stalls. The new stable is a pre-engineered, 3,600 square-foot wood building with 16 stalls. Each stall has special doors. Instead of having an opening at the top of the door, which is the standard design for horse stalls, the new doors are custom-designed with open grills at the bottom that allows the children to see the horses without having to be picked up. The stable also has a climate controlled tack room with a washer and dryer, and an indoor wash stall. And there's plenty of room to store hay in the loft. Shaw noted that most horse barns have dirt floors, but for this project, Wilhelm poured concrete floors to make cleaning the stable easier. The team also installed glycol tubing prior to pouring the concrete to provide radiant heat and prevent the floors from freezing in the winter time.
"I hope everyone at Wilhelm knows what their partnership means for children with special needs and their families," McCarley said. "Wilhelm saw our vision and immediately were on board. I don't think you find partners like that as a nonprofit so easily."
"Our entire staff realizes the impact that Wilhelm has made on this organization," said McCarley. She explained that 59% of each child's treatment is funded through donations, and the in-kind contribution Wilhelm provided correlates to a significant number of treatment sessions.
Wade added, "With Wilhelm's help, we have become more sustainable which means that many more children can benefit." McCarley said currently, Children's TherAplay currently has 47 children on its waiting list for occupational therapy and 34 on the list for physical therapy. With the new stable they will be able to increase the number of horses they currently have and also allow them to live out their lives on the property when they're ready to retire.
In comparison to other healthcare facilities Wilhelm has constructed, Children's TherAplay was probably the smallest project in the company's recent history but certainly was one of the most rewarding for its team. "It's a real treat to build a facility that cares for children and horses," Shaw said.
McCarley said she could tell that this project made an impact on Wilhelm's crew, too. "Scott Gibbs and Mike Shaw are these big, tough construction guys," she said, "However, you put them on a project like Children's TherAplay and their toughness fades away when they see our kiddos waving at them."
Shaw admitted, "It's been a very rewarding experience for sure, being able to witness the daily activities, the reactions of the children and the smiles on their faces."
"The Wilhelm team has been so remarkable," McCarley said. On day one, they told us, 'This is our area of expertise and we're going to make sure you have everything you need,'" she said. "It's been a dream come true for us."
People interested in learning more about other fundraising events at the facility are encouraged to check out the Children's TherAplay events calendar at www.childrenstheraplay.org/2017-calendar.