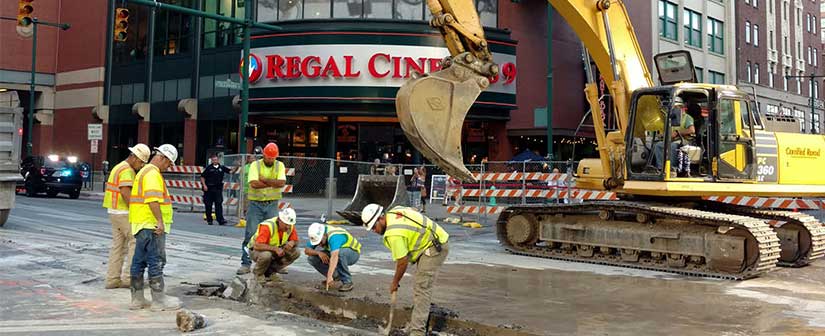 Emergency repair for Citizens Energy Group
At 2:09 p.m. Thursday, July 19th, Nate Crowell's phone rang. As F.A. Wilhelm Construction's (Wilhelm) Operations Manager and trusted liaison to Citizens Energy Group (CEG), Crowell's phone rings for any number of reasons. This call was for an immediate need as a utility access hole in the heart of downtown Indianapolis had just collapsed.
The breakdown of the more than 100-year-old brick utility structure was discovered during routine sewer cleaning and inspection. Reacting quickly, Wilhelm's team mobilized to the intersection of Illinois and Maryland Streets to assess the issue and begin a remediation plan.
Working around the clock for more than 36 hours, Crowell and crew excavated the area, and then began backfilling, stabilizing, and restoring the collapsed access hole. Streets were re-opened Saturday, July 21st – a mere two days after the initial call. It was a true team accomplishment with everyone involved working well together to address the emergency.
"Completing this work so quickly would not have been possible without the great teamwork among our employees, the Department of Public Works, the Indianapolis Metropolitan Police Department, Wilhelm Construction and material suppliers," said CEG's President and CEO Jeffrey Harrison.