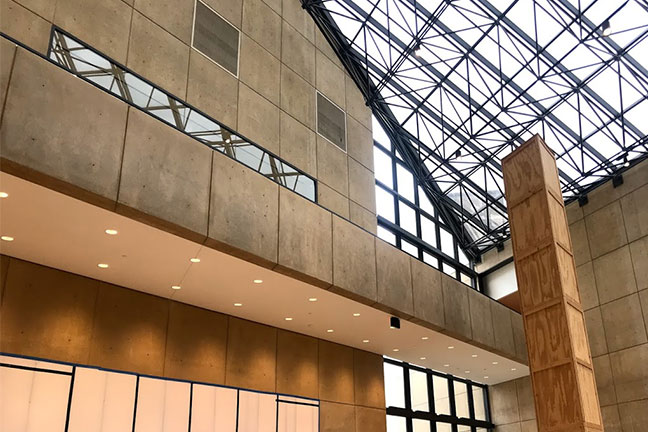 IU Eskenazi Museum of Art
IU Eskenazi Museum of Art Ready for Collections to Return
As one of the most prominent educational museums in the Midwest, Indiana University's Sidney and Lois Eskenazi Museum of Art is committed to interactive engagement with distinguished collections showcasing a robust history of creativity. To stay true to that mission the museum's comprehensive renovation of its spaces are helping to improve accessibility to students and faculty, protecting cherished works of art, and enhancing galleries and the viewing experience.   
Indiana University selected F.A. Wilhelm Construction (Wilhelm) as Construction Manager (CMc) for the 112,000 sf revitalization. Wilhelm led construction management efforts to renovate the museum by reinforcing access to the collections, facilitating connections to the academic curriculum, and enhancing the visitor experience. The design results in approximately 39,000 sf of new gallery space, 17,000 sf of new museum support space and more than 5,000 sf of new visitor amenities.  
In collaboration with designers Ennead Architects and Browning Day Mullins Dierdorf, the team worked through preconstruction and construction activities to bring IU's vision for the museum to fruition. The facility boasts a more open, expansive, and modern museum experience both inside and out, incorporating places to relax, study, and interact.  
"The challenges presented with a complete renovation in an iconic building could not have been overcome without a solid working relationship with the entire design team and owner.  The spirit of cooperation brought to the table by BDMD, were instrumental in the project's success," said Doug Curts, Project Executive, Wilhelm Construction.  
The sophisticated aesthetics, apparent throughout the museum, include many high-end finishes, such as quartz stone countertops, specialty wood flooring in galleries, custom millwork finishes, and new terrazzo flooring. Also featured throughout the spaces are demountable glass partitions, custom fabric paneling, glass handrails, and stainless-steel, high-performance finish coat handrails. Other prominent features also include:  
Specialty Track LED Lights: These lights

were installed in all galleries and feature

LED

–

direct

beams

that

pivot and adjust to ideally illuminate a

rt display

s

. 

 

Level Five Gypsum Wall Finishes:

Having a flawless backdrop is essential for enhancing the viewing experience, yet often, the direct

natural lighting used

throughout t

he galleries

can sometimes make slight imperfections more visible. Level five gypsum wall finishes ensure premium museum quality detailing without adversely impacting the featured works of art.

 

 

Integrated Concrete Color:

Seamlessly blending the existing concrete color with the new addition was, itself, an artform. Using specialty concrete techniques and several

mix designs and

material

mockups

,

Wilhelm's construction management team worked closely with designers Ennead Architects and Browning Day Mullins Dierdorf to perfect the results.

 

 
The Sidney and Lois Eskenazi Museum of Art is built and renovated to house and share world-class paintings and sculptures. Safeguarding the collection for future generations is the main objective as the art is relocated back into the facility. Extensive environmental controls, and testing and commissioning of precision infrastructure systems, has ensured the new and renovated spaces are in optimal condition to preserve and protect all pieces.  
"Wilhelm was an essential construction management partner in ensuring the IU Eskenazi Museum of Art Renovation project met high quality standards as well as tight budget and schedule alignment. Collaborating with the Wilhelm team and incorporating their museum-specific construction expertise throughout the early stages of design enabled us to provide a premium best value project for IU," said Dave Long, Associate Partner, Browning Day Mullins Dierdorf Architects 
Wilhelm has the right team and resources to tackle premium and complex projects like the Sidney and Lois Eskenazi Museum of Art – projects that demand experience, expertise, and top talent.  
To learn more about this renovation visit IU's website here.