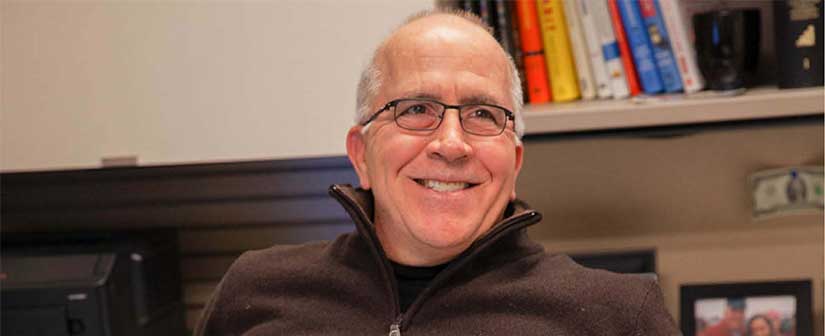 Giving Back
Joe Cathcart's Gift to LLS
Some say giving is an art; for Wilhelm chief financial officer (CFO) Joe Cathcart, it's just a way of life.
"That's the way I was raised. Giving back is important and always has been for me. Service to the community is the right thing to do," said Cathcart.
Being involved in community service from a young age, Cathcart has since collaborated with organizations such as Holy Spirit Catholic Church, Scecina Memorial High School, Catholic Youth Organization, Big Brothers Big Sisters, and College Mentors for Kids, to name a few. Many of the organizations he's found himself involved in are focused around children, including his coaching youth football for 20 years.
"Sports are a big part of my life. They provided me with an opportunity for a college education through a scholarship. My coaches over the years have been big influencers on me as far as mentorship. I think youth need role models and get true value out of developing relationships with mentors," said Cathcart.
While he's actively involved in several organizations and nonprofits, Cathcart ensures that he makes time for family and business, putting these items, respectfully first, and devotes additional time to outside organizations.
Cathcart was recently diagnosed with a type of advanced cancer and started treatment several months ago. In the meantime, he and his wife Kim have begun raising money for the Leukemia and Lymphoma Society (LLS) and the Melvin and Bren Simon Cancer Center (Simon) where he is being treated.
"I wanted to get Kim involved because she's been through this with me every step of the way and it's something we can do together to help with the battle. It's a positive endeavor and both organizations are fighting to cure cancer with research and revolutionary new treatments," said Cathcart.
Since being diagnosed, Cathcart and his wife have learned that HOPE AND FAITH are critical when going through this hard journey. The fundraising campaign is so much more than just money to Wilhelm's CFO. It's a light that spreads hope in his own journey and beyond.
"I know there are going to be lots of ups and downs, and there have been already. But, I want to try to stay as positive as possible, which will only help me battle the illness," Cathcart said.
Because of research, survival rates for many cancer patients continue to increase dramatically and rapidly.
"More research means more hope. This is what we want for all patients and families –  including ours," said Cathcart.
Running until October, the dual-brand LLS and Simon fundraising campaign has already raised more than the initial goal of $20,000. Continued donations to this cause will help find cures, improve treatment options, and provide support for cancer patients and their families.