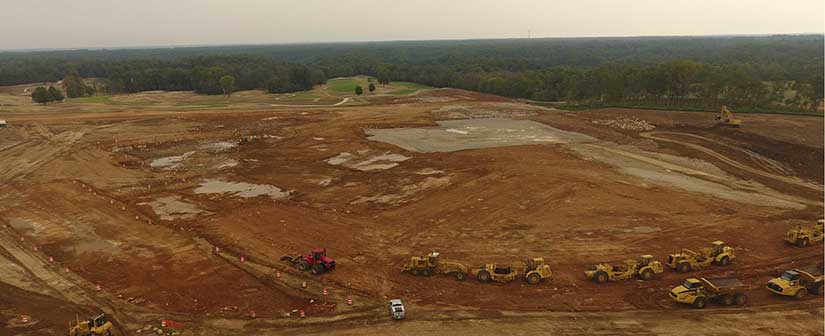 Massive sitework at IU Health Bloomington
Progress at IU Health Bloomington Campus
The IU Health Bloomington Regional Academic Health Center site spans more than 50 acres. So, what happens before concrete is poured and a structure begins to take form? Sitework. Lots of sitework.
Sitework is construction around and under the physical structure of the project. This usually includes grading, excavation, utilities, and earth work.
Since the start of the project, the construction management team has excavated and placed more than 150,000 cubic yards of dirt on site. That's enough to fill Walt Disney's EPCOT nearly two times! Moving dirt and leveling the project site are some of the first steps that must occur prior to pouring foundations.
Anyone digging in southern Indiana knows that bedrock, limestone, and gravel are all within the sediments of the soil.  The dirt at the IU Health Bloomington Regional Academic Health Center site is no different. Nearly 12,500 cubic yards of stone has been extracted from the land over the course of the project. Transported and crushed, this stone was recycled as fill material to aid in leveling the footprint of the building.
Earth moving is scheduled to continue for another few months and underground utilities for the site are slated to begin this month.
The CM team is comprised of F.A. Wilhelm Construction, Harmon Construction, Inc., Weddle Bros. Building Group, LLC, and Zurbuch Development/Construction Consulting.