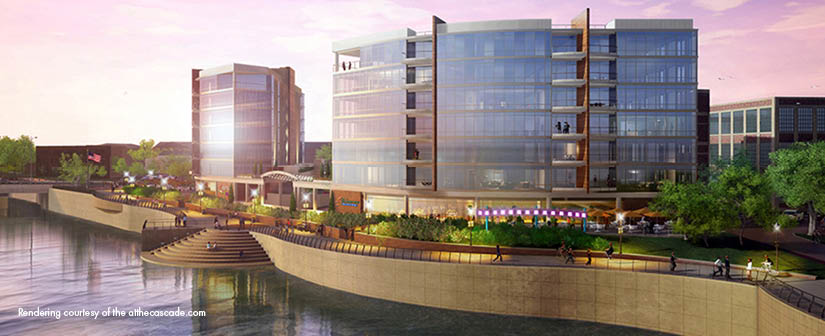 Mixed-Use Development
Urban Revitalization Stems from Mixed-use Developments
Consumers and investors are gravitating toward community-based mixed-use developments, especially in dense, urban environments. For tenants and neighbors, combined residential, retail, office, and entertainment complexes provide people walkable communities with easy access and a vast array of convenient amenities. Developers benefit with these properties by insulation against potential losses from vacancies and oversaturation of, any of the standalone single-source markets.  
Today's lifestyle preferences are increasingly centered around ease and expediency as evidenced by the many new on-demand services promising everything from instant restaurant food delivery to in-home devices that select favorite TV programs. Mixed-use developments provide the opportunity to build tight-knit walkable neighborhoods that increase immediate accessibility to the goods and services that consumers desire. 
Mixed-use buildings offer a variety of residential and commercial uses; however, public zoning requirements are more stringent. The addition of these types of structures has generated new mixed-use districts. Each district has specific standards for building height, windows, doors, lighting, parking, public transit and frontage. These regulations ensure that the mixed-use developments blend with adjacent properties are safe for the public and easily accessible.  
F.A. Wilhelm Construction (Wilhelm) is currently involved in multiple mixed-use developments being constructed – three in the growing and vibrant City of South Bend, Indiana – otherwise known as the home of the University of Notre Dame "Fighting Irish."  
Three Twenty at the Cascade is a master-planned mixed-use development located on a premier historic site overlooking the cascading whitewaters of the St. Joseph River. Led by Panzica Building Corporation, this project is a combination of luxury condominium residences and upscale dining venues coming together to create a place of unrivaled luxury and sophistication, all while redefining the South Bend skyline. Wilhelm is serving as the concrete contractor for this project. Click here to learn more:   http://www.atthecascade.com/

 
Eddy Street Commons (Phase II) is currently undergoing a 530,000 square-foot expansion that will enhance the current experience for South Bend residents, students, and visitors alike. As part of this development, Kite Realty Group and Buckingham Companies opened a new Embassy Suites Hotel in December and is currently working to construct new residential spaces, retail spaces, parking, and several urban parks including one for canine friends. Wilhelm provided general construction services for the new Embassy Suites providing concrete, steel, and other construction services for various projects. Click here to learn more:  http://www.eddycommons.com/phase-ii/


 

300 East LaSalle is a 10-story, mixed-use building that broke ground on December 17

th

 in the East Bank neighborhood in South Bend, IN. Mathew's 300 E LaSalle, LLC is the developer for this addition, bringing apartments, above and below ground parking, a grocery store, office and retail space to the up and coming South Bend Community. Wilhelm is serving as the general contractor for the core and shell of this new 440,000 sf building that will stand over 120 feet tall. Stay tuned for more information in future newsletter issues.

 
Cities like South Bend benefit directly from well-planned mixed-use facilities and residual growth and development that accompanies these environments. According to The Washington Post, every walkability point can add $500-$3,000 of additional value. Mixed-use properties also add value by setting the stage for community engagement. These developments often lead to greenspace additions, improved infrastructure, and new cultural venues, all helping to invigorate urban living.